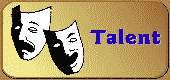 ---
A quick note for visitors from outside show business who are confused here: "Talent" is the word we use to refer to actors, singers, etc. Thus, without naming names, it is obvious that a person can be talent, without having much talent. What a crazy world.
But why become a performer in the first place? When I was a lad studying theater, I asked a professor why I found the subject so attractive. He told me, in so many words, that a good play exists to give audience members a chance to watch other people (the play's characters) mess up their lives. Thus, the reason drama is so compelling -- and so necessary to a society's well-being -- is that audience members can learn from painful lessons, without actually having to experience the misery firsthand. (A quick read of Oedipus Rex sorta makes this theory sound pretty plausible.)
Each of the following links will take you to a collection of useful and interesting information.
Audition and Training Resources: including acting exercises, schools, guidelines, and more.
Audio Performance (Voice-over): including an overview, downloadable sound samples, and more.
Understanding the actors' unions: including an overview, producers' casting and production guides, and more.
The following links are inexcusable wastes of time, and a lot of fun.
---