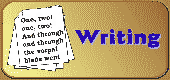 ---
"If it ain't on the page, it ain't on the stage." At first glance, this saying seems not only ungrammatical, but also archaic. But think in terms of a virtual page and a virtual stage, and its truth becomes applicable when writing for new media as well as old. Despite having started with a showbiz reference, this section should be of interest to all writers.
Scriptwriters, don't miss:
---
IN GENERAL: Writing well requires knowing the language, and you might be satisfied with the hypertext version of Strunk's The Elements of Style. If you need even more refinement, refer to Fowler's The King's English (no royalty required!). You'll find a diverse range of writing-oriented resources at the ScreenSite Reference Shelf, originated by the late Cal Pryluck at Temple University, and now hosted at the University of Alabama.
For an excellent website, with a broad overview of writing in its many facets, and scads of resources, visit The Inkspot. If you just want a little verbal fun, visit The Cool Word of the Day Page. Speaking of cool words, How To Talk New Age will teach you enough to blend in at any California party. On the other hand, if for some reason you want to make a reader's eyes glaze over, try filling your work with acronyms. The WorldWideWeb Acronym and Abbreviation Server has a searchable database just full of 'em.
But wait, there's more! Writing Strategies succinctly analyzes the psychology of the writing process. It may help you understand why you need to visit the Creativity Home Page. What if you are too "creative" with your spelling and grammar? Some folks feel that the problem is so pervasive that they have founded The Society for the Preservation of English Language and Literature, more easily known by its apt acronym SPELL.
LEGAL: Then, finally, you're done writing. You want to protect your work. The Copyright Website provides an outstanding range of information on the ins and outs of copyright for writing and other media. The International Entertainment, Multimedia & Intellectual Property Law & Business Network offers articles about real-life applications of these issues, as well as a "Contract of the Month" feature. For copyright help outside the U.S., the International Federation of Library Associations provides worldwide Copyright and Intellectual Property Resources. Screenwriters: check out the links under "Protection" on the Writing for Film page.
---
CAVEAT EMPTOR: The Science Fiction and Fantasy Writers of America have put together a fine page of Warnings and Cautions for Writers--Contests and Vanity Anthologies for poets and other writers. Look it over to separate the real career opportunities from the scams.
SCARY NEWS: What's more important in a democracy? Freedom of Expression -- or Profit? Read this alarming article by Michael Moore about censorship at Borders Book Stores reprinted from The Nation. Moore's relationship with Borders seems to have been patched up somewhat by now, but the story still carries a potentially ominous message.
FREE MONEY: Well, almost. I've adapted a streamlined version of the Foundation Center's handy "Proposal Writing Short Course" for your use right here. If you like it, please thank the Foundation Center for creating the original and making the content available.
FREE SPEECH: In the U.S. it's usually easier to get than free money. But it's not a simple, cut-and-dried topic. That's why you should look into Freedom of Speech in the United States. The site is there to promote a book, but has many good online reference sources and a good selection of helpful web links.
KEEP AN EYE on Scriptwriter.com, a new sister site just starting up, where a lot of writing information will be consolidated.
---